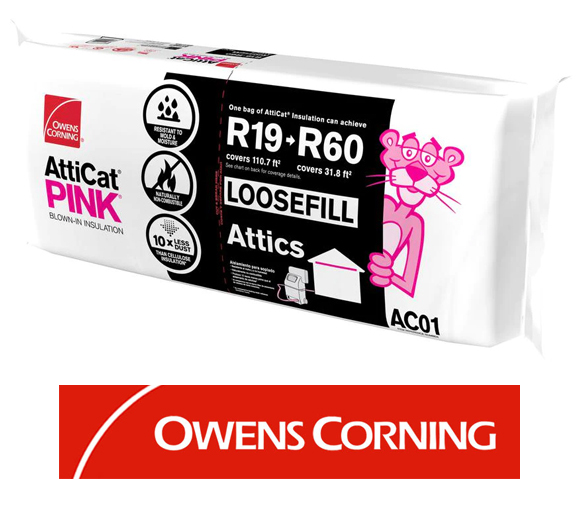 Milwaukee Attic Insulation Contractor
Roofing & Insulation Go Hand-In-Hand
WeatherPro Exteriors provides blown-in fiberglass insulation for attics in residential and commercial buildings. As an Owens Corning Platinum Preferred Contractor, we're proud to offer our customers AttiCat Pink Blown-In Insulation. Every job is backed by manufacture and workmanship warranties.
Experience has taught us homes in need of a new roof are often under-insulated. Proper attic insulation and ventilation are crucial for a well-maintained roof deck and roofing system. Every WeatherPro roofing estimate includes an attic inspection to evaluate your current insulation and ventilation.

Insulation Improves Efficiency
Up to 40% of conditioned indoor air can escape through your attic. Adding blown-in fiberglass insulation is the easiest, most cost-effective way to improve energy efficiency in your home. Not only will you see the savings in your energy bill, you'll feel fewer drafts and sleep like a baby knowing improved efficiency in your home also helps reduce greenhouse gas emissions.
Benefits of Blown-In Attic Insulation
Think of blown-in insulation like a protective thermal blanket keeping your home more comfortable. Because blown-in fiberglass insulation can seal even the tiniest cracks and crevices, it means your HVAC system doesn't have to work as hard to heat or cool your home.
Additional Benefits Include:
Fast installation (compared to batting)
Increasing your insulation decreases your bills
Creates a seamless protective covering around crossbeams, wiring, and pipes
Buffers noise from outside, and between rooms
Keeps moisture and condensation out of your attic
Maintains interior room temperatures
Increases your home's value

Attic Insulation Is Recommended By We Energies
Not only is attic insulation a great idea, We Energies recommends the product as a cost-effective way for treating air leaks.
"Cut energy bills and keep home comfort through the addition of insulation. Air leaks cause overly hot conditions in summer and overly cold conditions in winter."
Cost of Blown-In Attic Insulation
Cost varies based on the square footage needing insulation, and the R-value required for the project. We pride ourselves on sharing transparent quotes without a hard sell. Reach out to us today to learn what attic insulation can do for your home's efficiency. Don't let financing hold you back from a more efficient home. View our payment options including 0% interest for 18 months.

Let's Get This Project Started
There's never any pressure to commit if you just want to learn more. Promise!