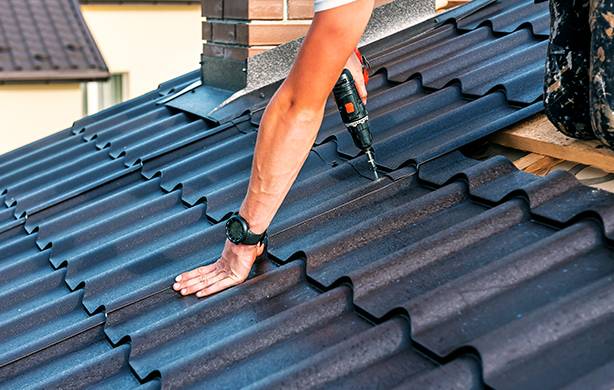 Metal Shake Roofing Solutions
Trusted Roofing Contractor in the Greater Milwaukee Area
Metal shake roofing is made up of lightweight metal and alloy tiles designed to look like cedar shake roofing. High wind and fire resistance, durability, strength, and a variety of styles and colors make this material an advantageous roofing choice. Unlike other types of roofing, metal shakes are easy to install and easily repel insects and other outdoor pests who might want to find their way into your home. With the experts at WeatherPro handling your metal shake roofing installation, you can have a brand new roof in no time.
Southeast Wisconsin Roofing Experts Install Metal Shake Roofing
There are a variety of reasons to choose metal shake roofing. Metal shake installation is quick and easy, especially when you hire full-time roofing contractors with an eye for detail. Other benefits of choosing metal shakes for your next roof are:
Fireproof: Metal shake roofing can withstand fires.
Increased Aesthetic Appeal: Metal shake roofing looks exactly like attractive cedar shake roofing, which can increase your home's curb appeal.
Longevity: A well-installed metal shake roof can last 40 to 70 years.
Low Maintenance: Standing seam roofs rarely need to be fixed.
Weather Resistance: Metal shakes can withstand winds of over 100 miles an hour, as well as hail, rain, and snow. Metal roofs are very durable, but having a roof made of panels that snow and rainwater can slide off of, and that can expand and contract depending on weather conditions gives your building another level of protection.
The disadvantages of metal shake roofing include being easily dented, higher cost, noisy, and prone to heat radiation. WeatherPro helps offset the higher cost of metal shake roofing by offering great financing options, including 0% interest for 18 months. If you're still unsure, take a look at our warranties. WeatherPro is committed to giving you and your family the best price and service possible for all your home or business roofing needs.
Metal Shake Roofing Replacement
Roofing problems are alarming, so it's not always obvious when you need a roof replaced. If you already have an expensive metal roof of any kind, you may be reluctant to admit it needs replacing. If you notice any of the following signs, there's a good chance you need a replacement for your metal roof:
Corrosion, Discoloration, or Rust: All of these issues point to rust, especially if you notice red and brown stains on your roof. Rust will quickly eat away at roofing material and damage your metal roof's structural integrity, making it an issue that should be addressed immediately.
Leaks, Punctures, or Tears: No matter what the type of roof, a leak, puncture, or tear is always serious. The presence of the problems indicates a serious underlying issue. Call WeatherPro's dedicated roofing contractors to get a free roof replacement estimate.
Loose Nails: Nails in older roofs will often come loose over time. If you see loose nails often, or if you can't keep up with screwing them back in or replacing them, it may be time for a new roof.
Sagging Roof: Other types of roofing are more prone to sagging, but it's not impossible for a metal roof to sag due to massive faults in the roof or its foundational supports. If you notice your metal roof is sagging, call a trustworthy roofing contractor right away.
Replacing your current metal roof may seem daunting, but our contractors strive to make every roofing replacement job as fast, easy, affordable, and durable as possible. Metal shake roofing is a good option if you're looking for an easy-to-install metal roof. WeatherPro's experienced roofing contractors have installed all types of metal roofs. If you need a new roof, schedule an estimate with WeatherPro today.
Metal Shake Roofing Commercial Repair
Just like any other type of roof, your metal shake roof may eventually need repair. Some signs you'll notice when this type of roof needs repair are:
Leaks: Leaks can escalate quickly, so if you see one, don't hesitate to call a roofing professional.
Peeled Paint: Peeling paint is more than a cosmetic problem. Moisture will make paint peel, so seeing a shabby-looking coat of paint could mean you have issues caused by excess water.
Sagging: Sagging indicates major structural problems in any kind of roof.
Metal Shake Roofing Installation: The WeatherPro Advantage
Although metal shake roofing installation is not labor-intensive, you'll still want a professional to make sure everything is installed correctly so your roof has maximum longevity and minimal repairs. A roof that will last for decades and is attractive will add value to your home. We use our 13 years of experience in the home exterior improvement industry to complete roofing projects that are easy to look at and hard to damage. Don't rely on substandard roofing contractors who are glorified hobbyists. Relying on WeatherPro to deliver above and beyond services for an affordable price.
Frequently Asked Questions on Metal Shakes
Each square for a metal shake roof ranges from $100 to $1500.
A metal shake roof can last multiple decades, with some lasting as long as 70 years. One of the biggest advantages of installing any type of metal roof is getting a roof with a longer life and lower maintenance.
Traditionally, a shingle is an overlapping segment used to cover a roof, while a shake is wooden, thicker than a shingle, and is split following the grain. Now that metal shakes resembling wooden shakes are produced, metal can be used to create shakes as well.
Contact WeatherPro Exteriors for more information on metal shake roofing or to request a free estimate.

Let's Get This Project Started
There's never any pressure to commit if you just want to learn more. Promise!