Quality Roof Replacement For Your Business
You may want to consider a roof replacement if your existing roof has leaks, missing shingles, or other damage caused by years of exposure to the harsh Wisconsin elements. We don't replace shingles or just re-roof, we always replace the entire roofing system through a full tear-off, new underlayment, decking (if needed), and new shingles. WeatherPro exteriors can perform a complete or partial re-roof of your roofing system.
Whether the job is big or small, we provide the same level of quality and attention to detail. Forget stacking additional "services'' to boost a cheap estimate. We strive to build long-term relationships with our clients, not make a quick sale.
We offer a Complete
Commercial Roofing Makeover
Most roofing projects can be completed in a timely fashion with the right equipment, including help from the Equiptor roofing trailer. This noteworthy piece of equipment eliminates falling debris and offers an efficient clean-up and recycling solution.
Commercial Shingle process: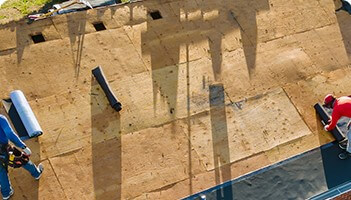 Decking
A long-lasting roof is built on a solid foundation. Before installing a new roof, we inspect the existing decking and replace any rotten areas. All decking is prepped for the installation process.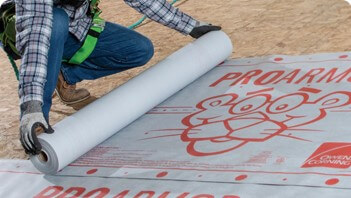 Seal
We use a full-synthetic Pro Armor Underlayment which is far stronger than any organic materials. Our seal resists molding and lays flat against the decking for a smooth, professional appearance. The incorporated ice and water shield covers 6 feet behind the edge of your roof, twice that of the competition.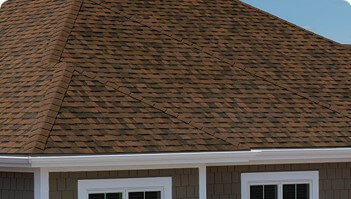 Defend
WeatherPro Exteriors uses Tru Definition Duration shingles to complete all of our roofing projects. Premium quality shingles offer 200% more common bond area than other brands which prevents blow-offs and water infiltration.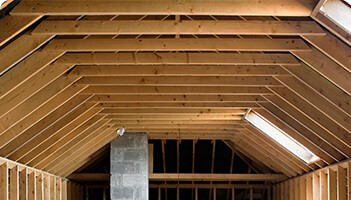 Breathe
We offer a full inspection as a central part of our roofing process. All attics are checked for suitable ventilation and quality insulation BEFORE we begin replacing your roof. If the job requires cleaning or adding new baffles, we will do the work standard.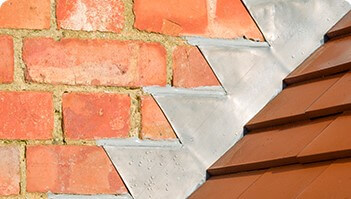 Extras
Every new roof receives new drip edge flashing on gable and rake ends, new aluminum gutter aprons, and new metal valleys. An ice and water shield is installed behind all gutters. New plumbing vent boots, chimney flashing, and exhaust venting are installed to ensure your new roof lasts as long as possible.
Flat Roofing Process: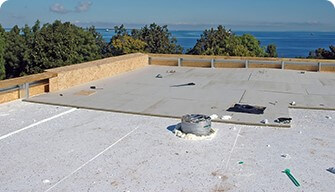 Tear Down
The flat roofing process starts with a thorough roofing material teardown and inspection of the decking. Rotted boards are replaced, and the decking is prepared for the installation process.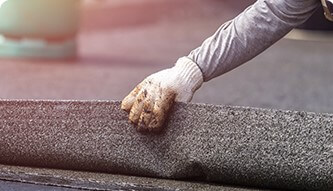 Inspect
Inspect Roofing inspections are performed with each roofing project—standard. We'll consider all factors to reduce the future risk of damage from improper attic ventilation, ice damming, mold, and premature roofing failure.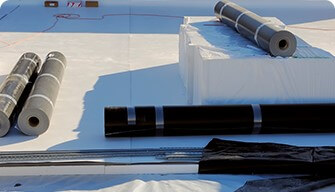 Prime
Synthetic underlayment is applied to protect the newly restored decking. An ice & water barrier sheet is applied for harsh weather protection.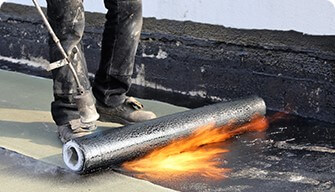 Cover
WeatherPro Exteriors uses DECRA metal roofing tiles for many metal roofing projects. Stone-coated steel tiles provide the durability of a conventional metal roof with the appearance of an asphalt-based roof. DECRA is a top-rated American metal roofing provider.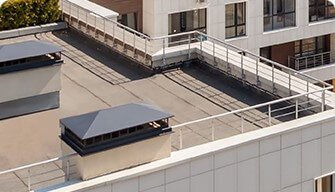 Finish
Water irrigation is greater accomplished through the addition of drip edge flashing on each edge. The installation of an ice dam protection membrane protects the sheathing from damage. Other roofing accessories are updated to seal off the newly installed flat roofing.
Our Customers Say It Best
Our office and field teams work hard to go above and beyond expectations for quality, value, and professionalism, but you don't have to take our word for it:
They were on schedule through the entire process. Their workers were courteous and took care of my home like it was their own, they cleaned up each and everyday , their craftsmanship was second to none. It was a pleasure working with them and I would recommend them to anyone they treat you like family.
Will
Thanks for the extra effort and carpentry work. All was restored to original condition. Looks great again! Great job handling and communicating all concerns and getting the project scheduled through completion.
Stephan
This is my third experience with WeatherPro. They installed "Leaf Relief" gutter guards. The work was done promptly. The installers were efficient, neat, and respectful. Most important, communication with WeatherPro from getting the estimate for the work, through completion of the job was excellent.
Lela
A Trusted Commercial Roofing Contractor
We offer solutions for an array of roofing styles, including:
A-frame
Gable
Pitched
Flat
And more.
Owens Corning, DECRA, and James Hardie are some of the top brands we work with in exterior roofing replacement. Our core commercial roofing systems include asphalt, stone-coated steel tile, and standing seam metal roofs.
We Are More Than Just a Roofing Company
WeatherPro Exteriors offers transparent estimates and a no-pressure sales process. We show our clients EXACTLY what they are paying for upfront before the work begins. Our competitive pricing is clearly stated and shared with all our clients. Have the peace of mind knowing we stand behind each of our projects with an industry-leading workmanship warranty. We will additionally honor manufacture warranties on materials.

Let's Get This Project Started
There's never any pressure to commit if you just want to learn more. Promise!